Lawn

Maintenance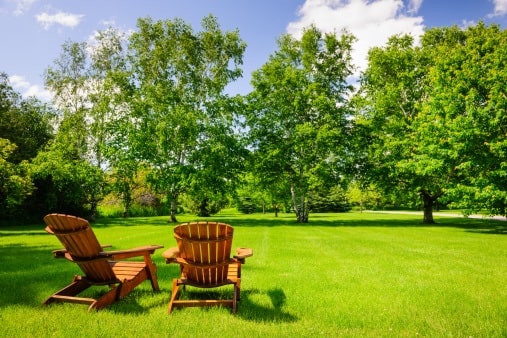 The importance of lawn maintenance cannot be overstated enough. It's more than just being aesthetically pleasing, the benefits of a well maintained lawn extend to both your family and the overall environment. The well being of the family unit is enhanced by having a quality outdoor space to utilize and enjoy. Also, the health benefits of grass, bushes, and shrubs are quite substantial for you and the ones you love. Green Acres offers to maintain your lawn in the following ways:
 Mowing
 Edging
 Weeding
A healthy, well maintained lawn also has benefits to the environment. A lawn utilizing a root system provides erosion, run-off control and water purification. This means the water from your lawn leaking into the groundwater is cleaner and healthier. Lawns also ensnare millions of tons of matter and debris each year, which makes it easier to breathe overall for everyone . Well maintained lawns can also help cool, which will lower your AC bills in the warm summer months! At the same time, your yard sucks up and sequesters carbon while releasing enough oxygen to benefit a family of four each day.
Before mowing, all turf, driveways, shrubs, and flower beds will be policed in order to remove any impediments or obstructions. Grass will then be mowed evenly and thoroughly at the ideal height for your yard. If we can't reach a certain area with a mower, we will simply use a string trimmer to cut the necessary height.
A nice, crisp edge around a flower bed or garden is both cosmetic and practical. Edging not only helps prevent weeds from encroaching on the landscape plants, but prevents landscape plants from escaping their beds. We do our edging with a string trimmer vertically, to maintain the look and function of your beds and plants.
Weeds encroach on your lawn by competing with your plants for space, water and nutrients. They also provide a negative appeal aesthetically in addition weakening your landscape plants Weed control is done early in the planting stage, and is maintained throughout the life of your lawn. Green Acres will be sure to keep your yard free of weeds on a regular basis.